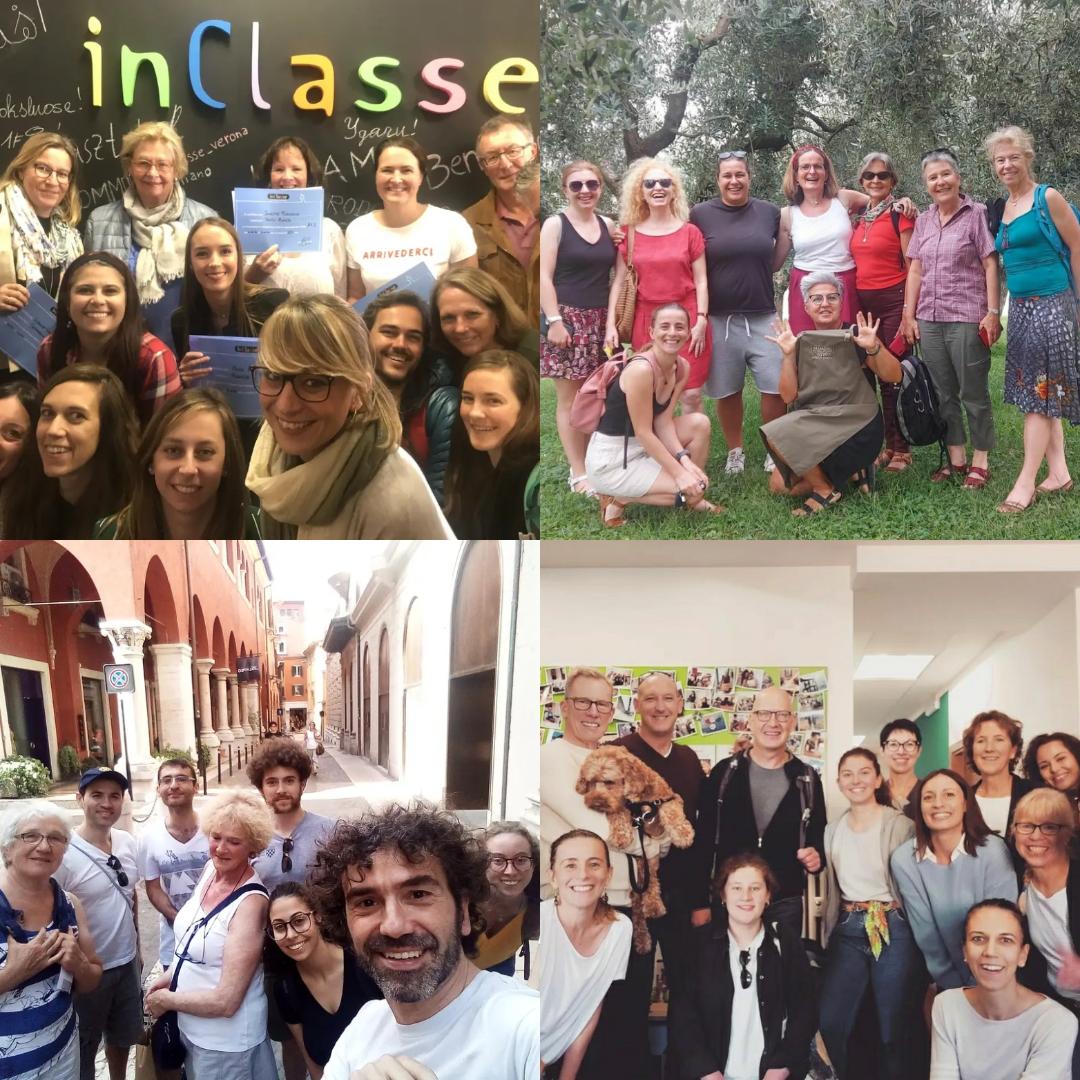 Why study Italian in Verona?
Because at inClasse you will find:
Experienced, enthusiastic teachers who specialise in teaching Italian as a foreign language to students of all kinds: professionals, immigrants, children and university students.
A modern, cosy school located in a building just a few metres from the wonderful Roman Arena in the heart of Verona.
Competitive prices, with many last minute offers.

Italian courses

in group and online courses for every need and with a lot of flexibilty.
A maximum number of 8 students per class, with an average of 5.
A rich programme of activities such as guided tours of Verona and the surroundings, Wine tours and Olive oil tours.
Italian culture and cooking workshops
CONTACT US!
info@inclasse.it
Visit our YouTube channel 

Activities: WORKSHOP AND FUN TIMES
At InClasse we believe in learning Italian by getting to know the culture and traditions of our country, that is why we place high importance on our cultural activities and workshops.
3 times a week, in the afternoon, you will find workshops, guided tours and other activities.
We know how important is for the students to feel at home, that is why we organize plenty of get-togethers, aperitifs, lunch breaks and anything else we can do to have fun.
Being outdoors hiking or swimming and sunbathing at Lake Garda are all excellent opportunities to spend time together and practice the Italian you've learnt in class.
We are happy to accompany you on nature routes by foot, by bike or with snowshoes, or to share with you the wonderful experience of a trek on the mountains.
Please feel free to contact us to know what activities are scheduled for your weeks of stay!
Hello Inclasse!
I am writing to thank you all in at InClasse for having me for two weeks of wonderful classes. […] I enjoyed InClasse-your professionalism, enthusiasm and versatility all really impressed me.
All the very best and my thanks for having me.
Kindest regards,
NORMA EDWARDS, 50 years, AUSTRALIA
InClasse provides the perfect learning environment for students of all ages and skill levels. I find the teachers to be welcoming, knowledgeable, dedicated and truly passionate about the Italian language and culture. The afternoon activities reinforce what is learned in the classroom and add some fun to the day. I recommend this school to anyone who is seeking a quality learning experience in the beautiful city of Verona!!
My teachers
The teachers at InClasse, my language school, are fantastic. They are experienced in language teaching and learning and their teaching methodology is based on the Italian language as it is used today.
I recommend the school highly as a great place to learn; not only the language, but also how Italians live, their culture and history.
Grazie e ciao a tutti …Colleen
Il tempo che ho passato ad InClasse e stato incredibile! Quando sono arrivata ad inclasse non potevo parlare italiano ma con gli insegnati bravi ed un po' di compiti ho imparato di più di quello che avrei potuto immaginare! Ho passato un lungo periodo a Verona quindi ho avuto modo di imparare da Gaia, Romina, Giacomo, e Vale! Tutti erano molti gentili e loro hanno reso le lezioni divertenti! Tutte le classi erano personali e piccole, era un ambiente perfetto per imparare! Ho fatto qualche attività extra-scolasticha, erano sempre interessanti e ogni settimana ci sono state diverse cose da fare. Verona e' una bella città e ci sono sempre cose da fare per tutti e ci sono sempre tante opportunità per parlare italiano.
E stato un piacere conoscere tutti e non vedo l'ora ritornare!
Grazie tutti